One word: "mask". What do you associate with this noun? A robber, criminal, or possibly even bandits. Or perhaps you think of the opportunistic forager, the raccoon. You most commonly picture them rustling through trash cans and attacking your neighborhood cats. But do these animals eat more than just garbage? Do they have other preferences?
Their diets are quite expansive, finding creative meals all over the world.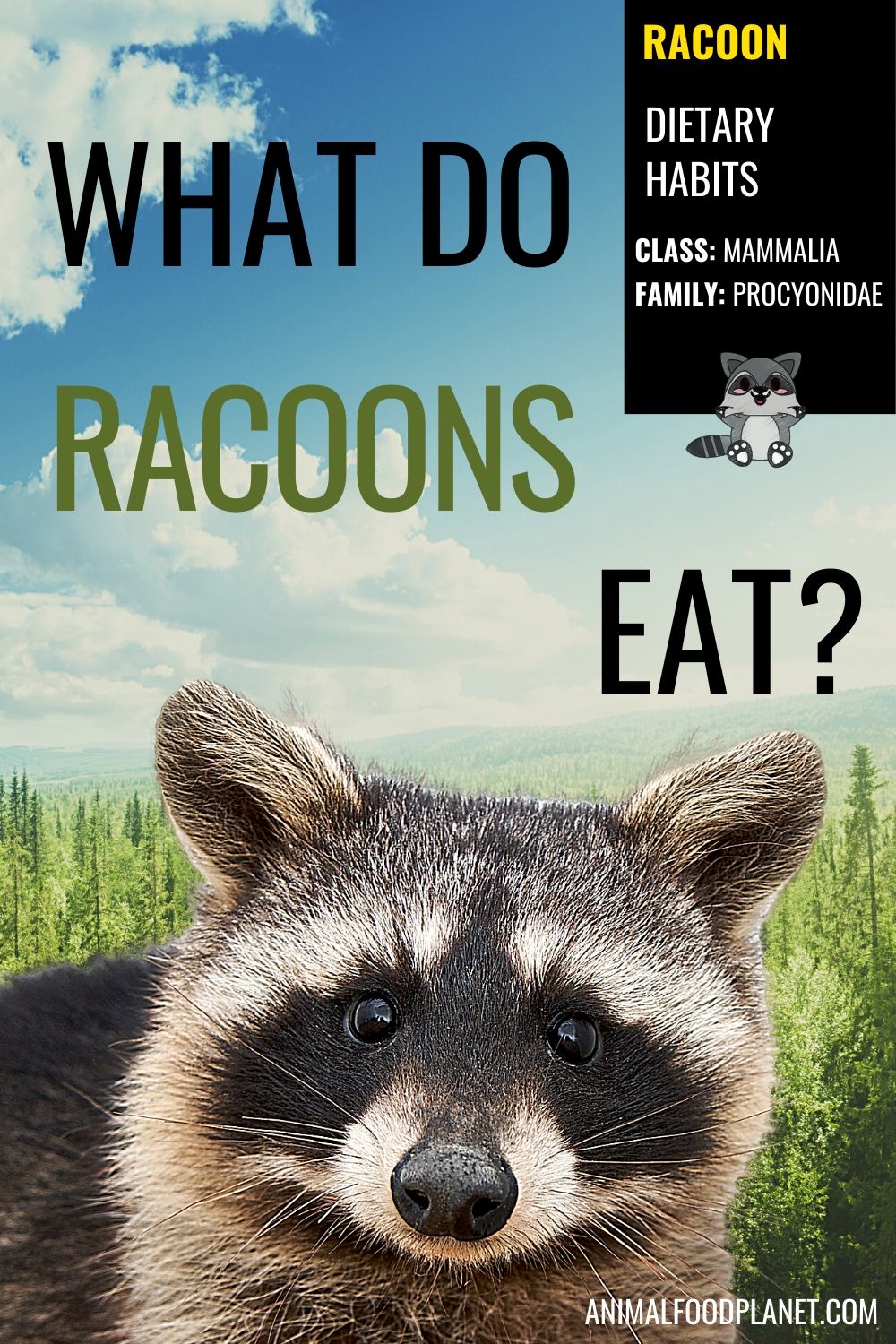 What Do Raccoons Eat?
A better question is, what don't raccoons eat? These small foragers will find different types of foods to meet their daily needs. These items include, but are not limited to insects, birds, amphibians, fruits, and even dead animals. The fact that this diet involves both plants and animals makes the raccoon an omnivore. They are a determined one at that, seeking out their prey in various different environments.
The Raccoon – A short introduction
Raccoons are from the family Procyonidae, which makes animals such as raccoons, coatis, and ringtails. The genus for these animals is Procyon which have three different living species. They are all linked together by their bushy ring tails, long finger-like paws, and lastly, the iconic mask.
All three of the raccoon species live throughout the New World, or Central America and the northern tip of South America. The most common living species can be found in and around most stretches of the United States, Mexico, and Canada. With so many different habitats, they tend to differ slightly in their meal preferences.
What Do Raccoons Eat in the Wild?
Cozumel raccoon
The Cozumel raccoon (Procyon pygmaeus), also known as the Pygmy raccoon, is one of the living species in the genus Procyon. This animal is smaller than the more well-known species found in the United States. It also has a more rounded snout. The bushy tail is more defined by having an orange hue with fainter rings along the underside.
The adults typically weigh approximately 6 to 9 pounds, or 3 to 5 kilograms. They are also about 58 to 82 inches, or 23 to 32 cm in total length. The tail itself of these raccoons is 9 to 10 inches, or 23 to 26 centimeters, making up the majority of the entire body length.
This species of Procyon is endemic to Cozumel islands near Mexico, meaning that they can only be found in this area. The Cozumel raccoon is listed as critically endangered by the IUCN Red List due to it only existing within 478 square kilometers, or 185 square miles.
This island is notorious for having a lack of carnivores, making the Cozumel raccoon a unique species. In fact, there have only been about 250 to 300 found individuals, making the status of its meal options very important.
These raccoons tend to live alone but can form small groups. They are nocturnal, meaning that they forage for food in the evenings rather than during the day. This affects what they are able to catch.
The Cozumel raccoon eats a variety of lizards, fruit, frogs, and insects. The biggest portion of their diet is a crab, weighing in at around 50 percent. They do tend to change their diet with the seasons, relying on the certain times of the year to find food.
During the wetter seasons, they can be found eating fruits and vegetables. In dry seasons, crabs make up most of their diet when they are most abundant. Because of their preferences, this species is likely to stay near water to be the most successful in their foraging efforts.
Crab-eating Raccoon